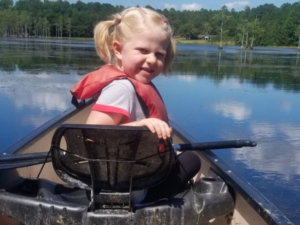 Distance: 1.5 miles
Difficulty: Moderate
Trail type: Paddle
Surroundings: Cypress forest
Trail Notes
I have to admit: I'm terrible at steering a canoe. But even I enjoy the canoe trail at Goodale State Park.
You can bring your own canoe or kayak, or you can rent a boat, paddles, and life jackets from the office near the main parking lot. It's $10 for a half day or $20 for a full day. The park employees will unlock a canoe for you and help you get it to the shore.
To get on the trail, paddle across the lake toward the thick cypress forest. There is a brown sign welcoming you to the canoe trail. Once you're back in the trail and surrounded by trees, you have to be careful because it's easy to miss a turn in the trail because some of the signs are difficult to see. Watch for diamond signs pointing your way on the way out. On the way back, it's white signs that are more rectangular or strip shaped.
How do you know you're lost? The trail almost always has a clear way forward. If you find yourself hemmed in by trees ahead of you, or if your paddle is touching the bottom of the lake, that probably means you're off the trail. Back up, turn around, and retrace your paddling, and you'll be back on the trail pretty soon.
I recommend wearing a hat and sunscreen as you are out in the sun quite a bit. Be careful about running into the cypress trees, because there are occasional hornets nests in the trees. But I've been on the trail several times and they've never paid me any attention.
Note: the map for this trail is incomplete because I've never actually paddled all the way to the end. My kids always want to turn around before I get there. 🙂
― Bryan Gentry
Links to Goodale State Park Canoe Trail: